Here you will find the most important information on making copies of archival materials and library stocks. You will also find out about the copyright rules that you must follow when making copies.
Photocopies and digital images
For conservation reasons, there are restrictions on photocopying archival materials and library stocks. Photocopies can only be made by members of State Archive staff. However, you may photograph archival materials with your own camera (without flash) for private use.
On request, the State Archive can provide digital images of individual documents, plans and photographic material of up to A3 DIN format. Larger documents are outsourced to an external service provider on its terms and can be provided to you at cost price.
Prices
All prices are exclusive of value added tax (VAT).
Photocopies
Black and white photocopy A4 CHF 0.50 and A3 CHF 1.00
Colour photocopy A4 CHF 1.50 and A3 CHF 2.00
High-resolution digital images
CHF 15.-- per image plus an administrative fee of CHF 20.-- (Switzerland) / CHF 25.-- (abroad) per order.

If you would like any reproductions of archival material, please complete the appropriate form and send it to the following address: staatsarchiv@be.ch.
We cannot, however, provide large number of reproductions. If you need to consult large amounts of material, please come to the Archive in person.
Copyright
The State Archive as the conservation institution is not necessarily the legal proprietor of copyrights and rights of use. You are responsible for finding out whether you have the right to use documents as a third party. You are also responsible for ensuring that you comply with any copyright provisions.
Where the State Archive holds the rights of use of digital images that are available in the online inventory (visible at the higher «Bestand» level), these images may be used provided details of their origin and their reference number are indicated (CC-BY-SA).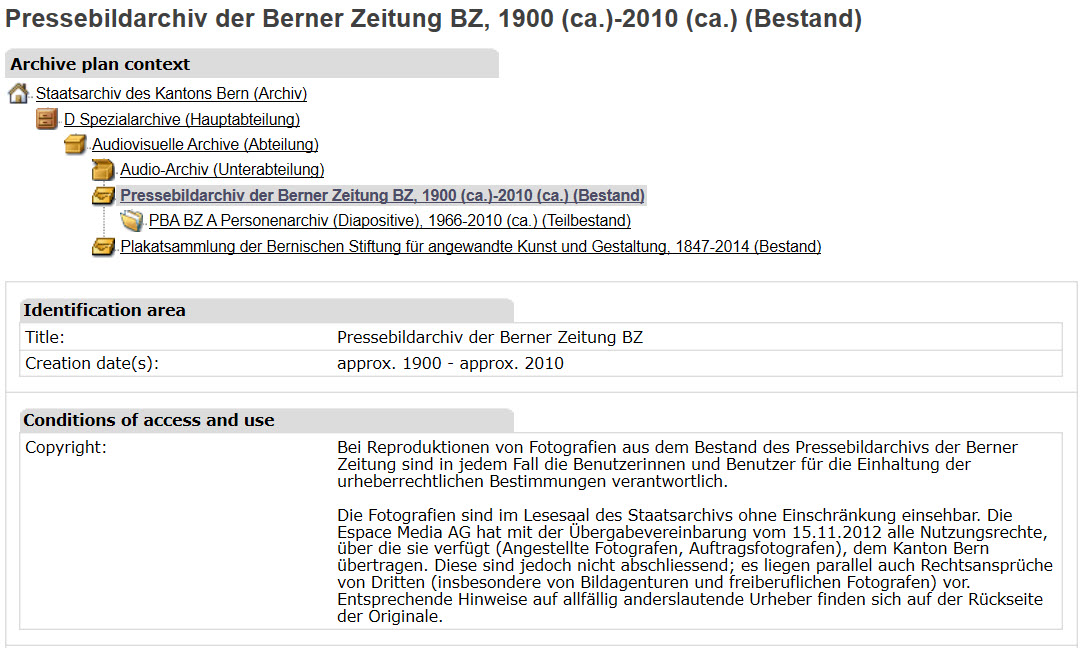 Whether the rights of use are held by the State Archives is visible at the higher level «fonds»:

The State Archive only charges reproduction fees for making digital images; it does not charge fees for using or publishing documents.